News Updates
WAITING LIST NOW CLOSED FOR OUR NEWEST UNITS
Published on November 3rd, 2017 in Fair Share Housing Development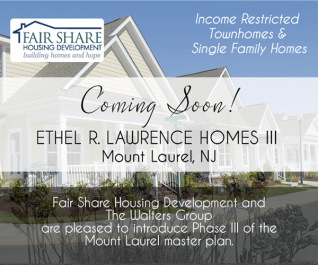 FSHD and the Walters Group are pleased to introduce
Phase III of the Mount Laurel Master Plan:
Click here to find out our income limits and what the cost of rent is for these units.
THE WAITING LIST FOR THESE APARTMENTS IS CLOSED AS OF NOVEMBER 6, 2017. The apartments are expected to open sometime at the beginning of 2018.