News Updates
NGII Community Health Worker Wins "Excellence in Care Award"
Published on December 6th, 2017 in Fair Share Housing Development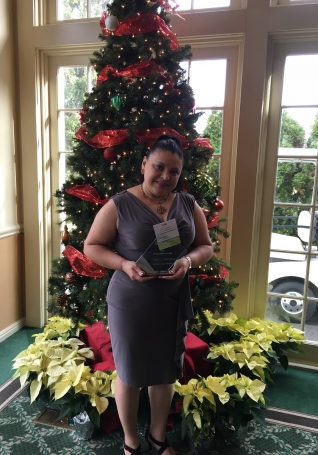 This month, our social services department at Northgate II in Camden got a major boost when our community health worker, Zaida Martinez, won LeadingAge New Jersey's 2017 Excellence in Care Award.
"Ms. Martinez goes above and beyond her job responsibilities," said Fair Share Support Services Social Services Director Marilyn Mock. "Not only has she developed excellent relationships with tenants, but also with their families who have personally called me to compliment her work."
"Great success as a community health worker requires an open heart and the will to support tenants who may not feel empowered to navigate the maze of healthcare services which are made even more difficult when the patient/tenant only speaks Spanish. For Northgate II tenants, Ms. Martinez is the beacon that shines the light through the maze and who walks side by side with them to ensure they have access to the medical care they so desperately need. Her work is a genuine definition of excellence in care."
Zaida Martinez accepted her award at a ceremony in Monroe Township on December 6, 2017. LeadingAge New Jersey is a statewide association of not-for-profit senior care organizations dedicated to advancing quality aging services in NJ through advocacy, education and fellowship.
We are very proud of the work we are doing to help our seniors and disabled tenants live a more enriched and healthy life.