Climbing Mount Laurel: The Struggle for Affordable Housing and Social Mobility in an American Suburb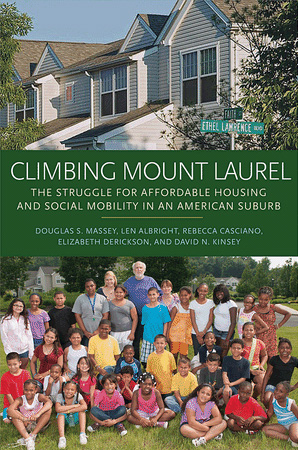 Ethel R. Lawrence Homes offers low-income families "a pathway out of poverty," according to a new book published by Princeton University which identified significant benefits associated with moving into FSHD's flagship development. Among the findings: ERLH residents experienced a reduction in welfare dependency and significant improvements in mental health, personal safety, employment rates, and income levels. Families with children also benefitted from quality academics thanks to a superior school district and an increased focus on classwork and reading by young people living in the development.
Climbing Mount Laurel: The Struggle for Affordable Housing and Social Mobility in an American Suburb is the result of two years of research by Princeton University. Professor Douglas S. Massey, who led the Princeton team, decided to focus on Ethel R. Lawrence Homes because the development was built as part of the settlement agreement in the landmark case, which is often called the most important civil rights ruling since Brown v. Board of Education. Additionally, ERLH's residents and the surrounding community were most impacted by the New Jersey Supreme Court rulings (1975 and 1983) known collectively as the Mount Laurel Doctrine.
Massey and his colleagues Len Albright, Rebecca Casciano, Elizabeth Derickson and David Kinsey surveyed residents of Ethel R. Lawrence Homes to assess their personal, household, neighborhood and school circumstances before and after relocation, then compared them to a similar group of low-income people who applied for an apartment at ERLH but did not get in. The research found that living at ERLH conferred many benefits on residents and saved taxpayer dollars in the process because:
Welfare use decreased by 67 percent;
Earnings went up by 25 percent;
Mental health improved by 25 percent (stress reduced due to safer neighborhood);
Rates of employment rose 22 percent;
Total average income was significantly higher for ERLH residents ($26,271) than non-residents ($21,022).
In addition, residents with children were more closely involved in educating their young ones, who did well in school despite the fact that the academic environment was much more competitive than the schools many of the children had been attending in Camden. ERLH children spent much more time studying and reading than non-resident children
"In their new neighborhood, project residents evinced better mental health and achieved greater rates of employment, more abundant earnings, and greater economic independence that they would otherwise have achieved," the Princeton researchers said in the preface to Climbing Mount Laurel. "It also gave residents more time and energy to devote to the education of their children, and enabled their children to attend higher quality and safer schools while earning grades that were as good or better than what they would have earned in their old schools.
"For these reasons, we see the construction and management of the project not only as a vindication of Ethel Lawrence's dream, but as a model for promoting greater integration and a pathway out of poverty for disadvantaged minority families throughout the United States," the researchers said. Ethel Lawrence, a teacher and mother of nine, was the lead plaintiff in the Mount Laurel litigation and is often called the "Rosa Parks of Affordable Housing." She faced death threats throughout the contentious Mount Laurel case and later the planning process that preceded the construction of the development that bears her name.
The Princeton researchers also looked at census and administrative data to undertake a time-series analysis of trends in crime, property values, traffic congestion, taxes, school performance before and after 2000, comparing trends in Mount Laurel to those in surrounding communities. Neighbors were also interviewed to assess their perceptions of how conditions in the community have changed since 2000. The Princeton research found no evidence of increased crime, higher taxes or a decrease in property values.
The Princeton study is the first of its kind to measure the costs and benefits of affordable housing for the high-opportunity communities that house them and the poor families that live in them.