Educational Support for Families
Because housing alone is just the first step to helping families overcome problems stemming from generational cycles of poverty, racial segregation, economic isolation and the lack of a good education, FSHD provides support in order to help our resident families take advantage of the educational and economic opportunities available in their new communities.
The Margaret Donnelly O'Connor Education Center at ERLH is staffed by a full-time Education Director (Michael Morris), an Associate Education Director (Chantel Young), an Education and Recreation Coordinator (Kaitlyn DeVeydt), two Jesuit Volunteers (who provides a year of service) and various teen mentors from local organizations. Throughout the year, our dedicated Education Center staff works closely with the Mount Laurel School District to provide a disciplined but creative program, which includes an after-school homework club, parent participation workshops, a summer enrichment program and one-on-one year-round tutoring to transform children's lives through educational achievement and enrichment.
COVID-19 UPDATE: To help our kids and their families deal with the difficulty of growing up during a pandemic, the Margaret Donnelly O'Connor Education Center at Ethel Lawrence Homes is now operating a virtual homework club, featuring one-on-one online tutoring as well as a range of enrichment and self-care workshops offered via Zoom. We want our students to have a safe space to process challenging topics, including the Black Lives Matter movement and the trauma of dealing with systemic racism, and how to stay safe in the midst of a deadly pandemic that has claimed a disproportionate number of Black and Brown lives. Our goal is to help our kids stay on track during an era of remote learning that threatens to dramatically widen the achievement gap between rich and poor students.
OUR KIDS NEED YOUR HELP LIKE NEVER BEFORE — DONATE TODAY!
Social service programs are also offered at Ethel R. Lawrence Homes and Northgate II to improve the well-being of our residents. We provide on-site workshops in social and problem-solving skills.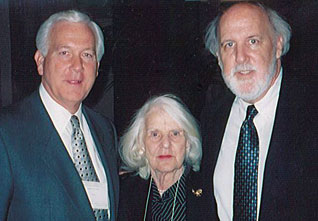 FSHD's Education Center is dedicated to Margaret Donnelly O'Connor (1914-2005), a single parent and longtime elementary school teacher who sacrificed her entire adult life to provide for her two sons James G. O'Connor, a retired executive with Ford Motor Company, and Peter J. O'Connor, the founder of FSHD and Fair Share Housing Center. Margaret remains a real-life hero to her sons and a role model for families at Ethel R. Lawrence Homes. To read more about her life story.
Above left: Margaret Donnelly O'Connor with sons James (L) and Peter (R)