News Updates
Holy Cross Classics Major is 2nd Ed Center Jesuit Volunteer
Published on September 30th, 2020 in Margaret Donnelly O'Connor Education Center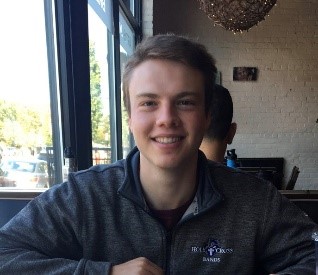 Hi everyone, I'm Liam O'Toole! I'm originally from Cleveland, OH, and I just graduated from the College of the Holy Cross with a BA in Classics. I was drawn to JVC after visiting the JV community in Syracuse, NY during my sophomore year. During that visit, it was evident that the community members cared for each other and were deeply committed to their service work—exactly the sort of experience I thought I would enjoy.
Since that time, I have been intrigued by the idea of a year of service, and I am grateful to have the chance to complete one at the Margaret Donnelly O'Connor Education Center through JVC. I've had a few chances to work with after-school homework clubs in the past and working with young students is always the highlight of my day. Education, especially equal access to it, has long been a passion of mine so the opportunity to work with MDOC and its mission to provide a safe and stimulating environment for the children of Ethel R. Lawrence Homes was something I could not pass up. Though I know this will be a different and challenging school year, I am thoroughly excited to meet the families through varied and fun programming!
Entering a year of service during this pandemic, of course, has not been without its difficulties. Although the thought of travelling across the country to begin a new job in an unfamiliar place all while living with five complete strangers seemed daunting prior to the virus' outbreak, the pandemic certainly made doing so even more intimidating. Nevertheless, it never crossed my mind to not do JVC. Of course, both my family and I had some reservations, but I am comfortable enough to begin my year at this time in part because of measures that JVC has put in place.
For one, out of an abundance of caution, JVC asked each community to quarantine for 14 days upon arrival to our city of service. Though it was initially disappointing to learn that I would start my time at the Education Center a few days later than previously expected, this mandatory quarantine yielded some surprising benefits. First of all, it has been much easier to get to know my fellow JVs really well through meals, board games and other fun bonding activities that might have been harder or even impossible if we had assumed in-person work responsibilities right away. Meals in particular have been a blessing. Because we couldn't venture out of our house even to visit the grocery store, former JVs and other members of the Camden and Philadelphia community were generous enough to cook or donate meals for us. This turned out to be a great way to get to know the cuisine of the area and to meet friendly faces we'll hopefully get to know over the course of the year!
In spite of the extra COVID precautions and the many adjustments that will be necessary, I am looking forward to what I think will be an important year of growth and learning. Though I'm presently focused on getting to know everyone through programming, it is my goal after my year of service at the Education Center to continue to do work related to education—even if not directly with students. Whether this takes the form of working in academic publishing, continuing with another non-profit, or perhaps entering the classroom, I can't yet be certain. In the meantime, I am so excited to share my own passions for reading, writing, board games, and sports with the Education Center; I am even more excited, though, to learn about the passions and personalities of our students and their families!