News Updates
ERLH 'Back-to-School' Fundraising Drive Is Parent-Led Success
Published on September 26th, 2019 in Fair Share Housing Development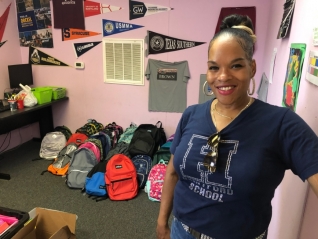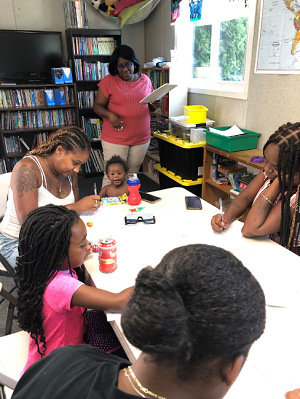 Back-to-School can be a stressful time for parents and kids. This year, our families got to ease back into the swing of things thanks to a few community-minded parents who led a fundraising drive to supply ERLH kids with free book bags, supplies and many other treats.
Deitra Chamberlain (top right), a longtime resident of Ethel R. Lawrence Homes who organized the event with another ERLH mom, Nicole Yancy, as well as dedicated Margaret Donnelly O'Connor Education Center staff, said she wasn't sure how her "First Annual Back-To-School Drive" would turn out.
"We ended with over 60 book bags as well as additional supplies to replace/replenish during the school year and generous gift cards to encourage participation in the workshops offered the day of the event," said Deitra. "Most heartwarming were gift certificates donated by Once Upon A Child ($100), Target ($75) and Walmart (four $25 cards), which were given to deserving families in the development. These donations brought tears to my eyes and made all the hard work worth it."
Dozens of children and their parents attended the event, which was held on August 30, 2019, and featured free food, academic success workshops, free boys' haircuts, face painting, a "Plato's Closet" shop for girls, raffles, games, prizes, a selfie station and music.
"The most uplifting part of this event was knowing our efforts helped our families," Deitra said. "The children were so excited to pick out their book bags. Their smiles were certainly thanks enough. Knowing that parents could be relieved, even if just minimally, was a pleasure. Others have given/helped my family in the past and I just wanted to pay it forward."
In all, the fundraising drive resulted in many generous gifts from the Great Mount Laurel community. Donations included 30 book bags with supplies from Masonville Deli, a Polish-American eatery in Mount Laurel; 15 book bags with many bins of school supplies from St. John Neumann Church; 15 book bags and several boxes of supplies as well as handwritten notes to our kids from the youth who attend Hope Church; and a large blue bin of supplies from Fellowship Community Church. We also received gifts from SkyZone (10 one-hour jump passes), the Philly Pretzel Factory in Moorestown (four $20 gift cards), Francesca's Pizza, Pasta and Grill ($25 gift card), and TCBY of Marlton (60 free cones and 15 $3 gift certificates).
Deitra said she plans to organize another Back-to-School event next year. "I believe whole heartedly in the African proverb, 'It takes a village to raise a child.' I think it's really important for parents to join together to ensure a successful future for all of the children of Ethel Lawrence Homes. All of our efforts collectively are much more effective than any one parent's individual efforts in just their home."
Deitra thanked Matt Cooley, an ERLH dad, for his "creative and eye-catching flyer design." She also gave a special shout-out to Education Center Director Mike Morris and Chantel Young (teaching workshop above), our Associate Director of Education and Social Services, as well as this year's Jesuit Volunteers: "Ms. Kaitlyn and Mr. Scott hit the ground running in their new placements and really contributed to this awesome event."