Margaret Donnelly O'Connor
FSHD's Education Center is dedicated to Margaret Donnelly O'Connor (1914-2005), a true hero who overcame adversity and hardship, never accepted defeat, and was a model of one who promoted education and lived her life for others.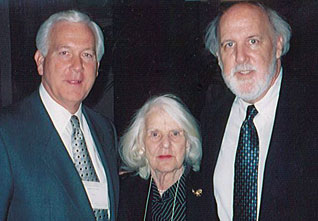 Margaret, an orphan, married, gave birth to two sons, and was deserted by her husband when her boys were two and three years old. As a single parent, Margaret O'Connor sacrificed her entire adult life to provide her two sons, James and Peter, with the opportunity to live in South Orange, New Jersey, attend the best schools (Seton Hall Prep, College of the Holy Cross, Villanova University, and Georgetown Law Center) and develop the values needed to succeed in life. James, now married for 48 years, father of two daughters, and grandfather of four, retired in December 2004 as Group Vice-President, Marketing, Sales, and Service, Ford Motor Company after a 40-year career. Peter, a public interest lawyer, is the Founder and Executive Director of FSHD and Fair Share Housing Center.
Above right: Margaret Donnelly O'Connor with sons James (L) and Peter (R)
"Mom instilled in us the value of a good education. Peter knows housing alone won't break the bond of poverty. One also needs a solid educational foundation. That's why no other donation comes before my gift to the Margaret Donnelly O'Connor Education Center," said James O'Connor.
"As Peter's 'Irish Twin' younger brother (by 11 months), I have followed Peter's tireless efforts and the tremendous progress of Fair Share Housing since its inception in the 1970s. Mom would be so proud to see how many people Peter has helped over the last 50 years," he added.
Margaret, a graduate of The College of New Rochelle (class of 1937), was an elementary school teacher for more than 30 years in Newark and Orange, New Jersey. She earned a Master's Degree in Education at night at Seton Hall University, worked every summer to make ends meet, and always told her sons, "I will never let you down," and "No matter what the obstacles are, you can do it." After her sons became adults, Margaret devoted herself to the sick and infirm — reading to the blind on the radio, volunteering at nursing homes and church-related activities in the City of Camden, and joining the Third Order of Saint Francis of Assisi in Haddonfield, NJ.