News Updates
Pioneering Senior Affordable Housing Care In The COVID-19 Era
Published on May 14th, 2020 in Fair Share Housing Development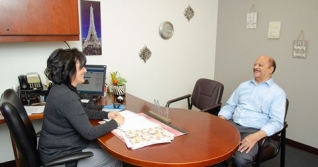 Many in-person programs have been suspended due to COVID-19
As the coronavirus continues to wreak havoc on the national health care system and economy, a mass infection of Northgate II residents has the potential to overwhelm the county hospital system. Cooper University Hospital, the medical facility most likely to be utilized by tenants, has 152 COVID-19 beds and would need to divert additional patients to other hospitals.
Northgate II has 408 high-rise residents – all of them seniors or tenants with disabilities. Through its partnership with Camden Coalition of Healthcare Providers, a Camden ACO, Fair Share Support Services, the social services arm of FSHD, maintains a database of vulnerable, high-risk NGII tenants who possess the co-morbidities that are risk factors for an unfavorable COVID-19 prognosis. Our database also interfaces with CCHP's county-wide Health Information Exchange, so FSSS can track and help provide post-acute care for residents who are discharged from the hospital.
Northgate II is home to a diverse population that mirrors the high-risk groups who are more susceptible to complications from COVID-19: 66% are age 50 or older; 60% are Hispanic; and 37% are African American. Most tenants have been diagnosed with multiple chronic health conditions including hypertension, asthma, diabetes, and heart disease. Our culturally sensitive programming has helped our tenants overcome many health challenges. We have had to suspend most of our in-person programs, including Tai Chi, chair yoga, strength training, grief and loss groups, emotional support groups, stress and anxiety support groups, Men's Night Out and Ladies' Night Out.
But we continue to distribute supplemental food to our very low-income elderly and disabled residents and also conduct daily check-ins with our tenants. Our ALP program and the building's home health care agencies also continue to operate at Northgate II within CDC safety guidelines.
To help us deal with COVID-19 crisis, FSSS is seeking funding to pioneer telehealth wellness programming in senior affordable housing. Telehealth allows remote access to healthcare providers, who can virtually triage when a COVID-19 patient should head to the ER or is safe to remain quarantined at home.
Providing low-income seniors with user-friendly computer tablets can also help tenants deal with the ill effects of prolonged social isolation by providing access to mental health professionals through programs like Zoom or FaceTime. Our tenants would also benefit from remaining virtually connected and engaged with Northgate II's social service programming, so culturally sensitive activities that are meaningful to our tenants – such as bingo, dominoes, and cooking classes – can continue, albeit virtually.
Additionally, residents could use the tablets to watch movies, play video games, listen to music and enjoy wellness programs such as Tai Chi, yoga, and mindfulness meditation to reduce stress and anxiety. They could video chat with friends and family members – and some seniors might even be able to attend church virtually! Finally, there are emerging opportunities for inter-generational programming, linking millennial volunteers to seniors in need of a digital connection.
According to a recent report by the National Academy of Sciences, the lack of social connection and brain stimulation is associated with higher risks of physical health problems like heart disease, dementia and even premature death. Since the COVID-19 crisis hit, telehealth wellness programming continues to gain ground in middle and upper-income senior communities, but remains an out-of-reach luxury for poor seniors living in affordable housing.
FSSS is seeking donations to purchase tablets designed specifically to benefit older adults. We also need funding for staff training and tech/WiFi support to ensure our residents gain the tech literacy skills they need to access online programs.
Using technology to keep our seniors and tenants with disabilities engaged, connected and healthy has kept FSSS on the cutting edge of senior care in affordable housing. Our organization has received a national innovation award for its service-enriched affordable housing model, which is unique in the state of New Jersey for its robust wellness program and strategic partnerships which are helping to transform how healthcare is delivered to the elderly poor in urban settings and supporting low-income seniors as they age in place.
Our collaborative partnerships with community-based agencies, healthcare providers and other stakeholders have dramatically improved the lives of our residents and reduced wasteful healthcare spending by preventing unnecessary ER visits and forestalling nursing home placement (which costs $24-$72K a year; since 2012, less than 1% of NGII residents have been placed in long-term care). FSSS partners with an Assisted Living Program (a rarity for the elderly poor) and also enjoys long-term collaborations with CCHP, the NJ Institute for Successful Aging (NJISA)/Rowan School for Osteopathic Medicine, Rutgers-Camden School of Nursing, the Food Bank of South Jersey and LeadingAge, the nation's top advocacy organization for aging services.
Shortly after the COVID-19 crisis began impacting New Jersey in mid-March, FSSS convened a task force to develop and implement a response to NGII residents testing positive or presumptive-positive, as well as for the community stakeholders who provide services to tenants. We hosted an "Ask the Doctor" COVID-19 session in mid-March well in advance of documented COVID cases in South Jersey. The protocols implemented at Northgate II are informing the recommendations we are making to NJISA/Rowan and NJHMFA for use by other service coordinators in affordable housing complexes across New Jersey. This work is of critical importance since COVID-19 is expected to resurge in Fall 2020.
Our goal is to save lives and prevent our residents from transitioning into long-term care over the next few months and keep medical expenses down. Studies show it costs $34,000 to treat a hospitalized COVID-19 patient with insurance. Without insurance, the cost rises to $74,000.