News Updates
Northgate II Draws National Attention for Healthcare Pilot Project
Published on March 23rd, 2012 in Northgate II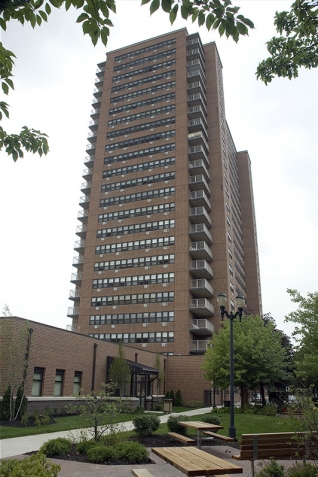 Northgate II is an island of safety and stability in Camden, one of the poorest and most dangerous cities in America.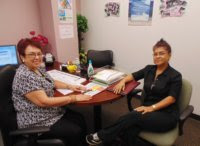 Paquita Lopez with Northgate II resident
FSHD's Northgate II affordable housing complex in Camden is in the national spotlight thanks to an innovative project that aims to cut millions in Medicaid costs by dramatically improving medical care for the urban poor – particularly the elderly and the disabled.
The project got under way in 2011 when Fair Share Northgate II joined forces with the Camden Coalition of Healthcare Providers (CCHP) to launch the first demonstration Medicaid Accountable Care Organization (ACO) in the State of New Jersey. The goal of the three-year pilot ACO project is to improve the health and well-being of low-income seniors and other poor individuals in Camden by coordinating quality primary and preventive medical care – an effort that is expected to dramatically reduce Medicaid expenses. If the project is successful in reining in costs and meeting quality benchmarks, providers will be eligible to receive shared savings benefits based on a gain-sharing plan.
A critical first step was the opening of a primary care practice in Northgate II, our 402-unit development. Data analysis by CCHP has shown that too many Camden residents are "super-utilizers" of local hospitals because they lack access to primary and preventive care doctors and nurses who can help them manage chronic conditions such as diabetes, asthma and obesity, not to mention deal with less serious conditions such as head colds, ear infections and sore throats. Medicaid costs for these largely preventable ER visits have been extraordinarily expensive – running in the millions of dollars. Media coverage includes pieces in The New Yorker, PBS's Frontline, CNN, WHYY radio as well as local and national newspapers and TV news.
A growing stream of Northgate II residents has begun to use the primary care facility operated by Reliance Medical Group. This year, CCHP will take things to the next level by "embedding" a nurse care manager, health coach and data technician at Northgate II to ensure proper follow-up on all primary care, specialist, and hospital visits by our residents. But more targeted social services support is needed to ensure the success of the pilot Medicaid ACO.
Research by CCHP has shown low-income seniors in particular cycle in and out of hospitals because they and their families:
struggle to understand and administer complicated medication regimens – glucometers, insulin injections, etc. (some can't see well enough to read their blood sugar levels, or their hands are too shaky to prick themselves);
require special transportation arrangements so they can keep regular appointments with their doctors (some patients are in wheelchairs and this can make it difficult to get around);
need help with daily living activities, such as preparing nutritious meals.
This year, FSHD's sister nonprofit Fair Share Northgate II, which operates the social services department at Northgate II and is coordinating the effort with CCHP, will develop a health and wellness plan for each of the more than 700 residents living in the Camden complex. Northgate II is comprised of a 23-story high rise with 308 apartments for the elderly and disabled on one entire block and 94 family units in 14 garden apartment buildings covering two city blocks.
Fair Share Northgate II is also developing a thoughtful program of daily health and wellness activities to respond to resident needs and desires. And we will develop programs to help improve the health literacy of our tenants – in addition to continuing our regular support services which range from assisting tenants with important insurance and social security issues to helping to arrange transportation for those in need.
The pilot ACO project will have wide-ranging policy implications for New Jersey, which remains one of the country's most segregated states, especially in our urban centers, long plagued by generational cycles of concentrated poverty. But the lessons we learn in Camden will also benefit millions of other low-income families, seniors and disabled people in cities across the United States.
In South Jersey, FSHD will use the experience it gains from this project to inform its work and replicate the ACO concept at two new senior housing complexes it has in the development pipeline in Mount Laurel (192 units) and Cherry Hill, NJ (109 units).