News Updates
New Report Offers Insight Into Hopes and Struggles of Our Families
Published on March 14th, 2018 in Margaret Donnelly O'Connor Education Center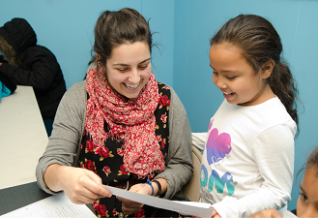 Where do our families come from? What are their children's biggest challenges? What are their dreams for the future?
A report prepared by Margaret Donnelly O'Connor Education Center Jesuit Volunteer Corey Hubbard answers these and other questions in a recently completed needs-assessment study that provides a first-ever snapshot of the struggles and aspirations of our MDOC families.
Corey, the Education Center's 2015-2016 JV, took on the difficult task of interviewing nearly 30 families in order to glean sociological and academic information about our students as well as their parents. Her report also provides recommendations on how we can improve our program.
Corey's report shows that a large number of our parents either moved directly from or had lived previously in Camden, New Jersey, one of the most dangerous and impoverished cities in the nation. One child's father was murdered right outside of the family's home. Another child was jumped and beaten. Still others have been traumatized by regular exposure to street violence. "In leaving Camden, (our families) leave behind violence and poverty in exchange for better work, a culture of education and achievement, and a level of safety and security that are simply non-existent in Camden," the report says.
Corey quotes one mom, who said she was glad her children are no longer exposed to the "jumping, fights and stabbings at other schools." She confided: "My kids are little suburban kids. I'm so glad!"
The report notes that most of our families are headed by ambitious, hard-working moms, nearly all of whom have continued their education beyond high school. Half of these moms attended some college after high school; a lack of financial aid is cited as the main reason why their dreams for higher education have been interrupted. Other findings:
A quarter of our moms work two or more jobs to make ends meet.
Most of our moms are employed in low-paying jobs in the medical field, such as medical assistants (MA) or certified nursing assistants (CNA).
Nearly a third of our families live below the 2016 federal poverty line ($24,300 for a family of four).
Most families earn between $20,000 to $40,000 a year.
Four-fifths have seen an annual increase in earnings of several thousand dollars since moving into Ethel Lawrence Homes. This data is supported by other research which prove that moving low-income families into high-opportunity communities is the best way combat generational cycles of poverty. It also reduces teen pregnancy, increases college attendance as well as marriage rates, and significantly improves adult earning capacity.
In half or our families, fathers are involved caretakers; they either take the kids on the weekend or are otherwise physically or emotionally involved in their children's lives.
Corey's report also reveals some interesting facts about the strengths and challenges faced by our Education Center students:
Nearly 40 percent of our students receive supportive services from the Mount Laurel School District, including special education, speech therapy or reading support.
About a fifth of our students struggle in math and/or reading.
Eight students (20 percent) have been on the honor roll for at least one year.
Four students are either in advanced classes and/or in the Gifted Education program.
Fifteen students (38 percent) "take pride in their work and work hard to make good grades and do their best."
Eleven students (28 percent) "have creative skills, whether that be writing at an advanced level or creating art."
Eleven students (28 percent) participate in extracurricular activities, including sports and the performing arts.
Ten students (26 percent) read for fun.
Eight students (21 percent) have a "particular love of learning, a deep curiosity and a desire to know more."
Seven students (18 percent) demonstrate "distinct writing and composing abilities that are at or above grade level."
Five students (13 percent) are "very helpful, offering assistance to other students struggling with their work or showing compassion to peers in pain."
Our parents expressed much gratitude for the Margaret Donnelly O'Connor Education Center program. "It's like having a partner or parent to help," said one mom. Another mom said the program had done wonders for her son. "I've never seen him so confident; that's why this place is so important."
The families expressed heartfelt thanks for the opportunity for advancement that comes with living at Ethel Lawrence Homes, which includes seeing their kids attend one of NJ's top school districts.
Like most parents, our moms are seeking the best for their kids. "You don't want them to come up struggling the way you struggled," explained one mom.
Another mom echoed this sentiment: "You work hard so that your children will have more opportunities than you had. The ultimate hope is that your children do better than you ever did."
The parents Corey interviewed offered a number of helpful recommendations to improve the Education Center program. We have already implemented a number of these suggestions, including hiring extra staff, expanding individual tutoring and launching a new college readiness program. Parents also wanted more recreational activities and we are pleased that we will soon break ground on our new Outdoor Recreation Area. We are also working on expanding the Education Center into a larger building to be located in the Outdoor Recreation Area at ERLH, which will enable us to accommodate more students and offer new activities including counseling, movie nights and additional parenting workshops.