News Updates
Data-Supported Programing for New Education and Wellness Center
Published on October 15th, 2020 in Fair Share Housing Development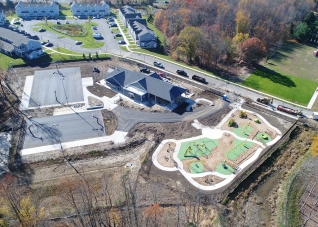 Aerial shot of our new Education and Wellness Center, featuring a playground, basketball courts, and a pavilion with two large classrooms and an outdoor picnic area. The new Education Center and outdoor recreation area is expected to be operational in early 2021.
By Kaitlyn DeVeydt, Education and Recreation Coordinator
The Margaret Donnelly O'Connor Education Center is going digital! We've officially begun our eight-week implementation process with Apricot 360, a comprehensive database that will allow us to track the needs and progress of our students and residents so that we can create better programming to best suit the needs of our community, including seniors, differently-abled residents, and, of course, our children and their families.
We're hoping to develop a better understanding of the diverse cultures housed in Ethel R. Lawrence Homes, the academic and professional achievements and goals of our students and residents, and the unique needs and wants of our community and its members.
We believe that supportive services are what set Fair Share Housing Development apart from other affordable housing organizations. With our new Education and Wellness Center almost complete, we're hoping to expand our services – both in who we serve and what we offer. Something like Yoga classes or Zumba lessons or a Basketball League are all within the realm of possibility now, but we want to know the cultural needs and interests of our community to offer the most comprehensive programming.
This data will allow us to get a clearer picture of what the community wants and needs for our expanding wellness program. We look forward to offering services beyond academic support and working more intimately with our seniors, families with children, and differently-abled residents. The Margaret Donnelly O'Connor Education & Wellness Center is for the whole community so we'd like to build the programming together.