Evans-Francis Estates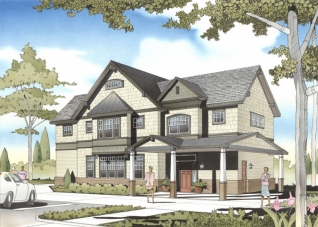 The Evans-Francis Estates project is unique because it would be only the second affordable housing development in the suburbs of New Jersey to reach poor families with incomes as low as 20 to 60 percent of median income. The first such development was the award-winning Ethel R. Lawrence Homes in Mount Laurel Township, which opened in 2000.
Land has already been acquired to build Evans-Francis Estates, which will result in two-story garden rental apartments and town homes, including 16 one-bedroom units, 22 two-bedroom units and 16 three-bedroom units. The 54 units will be housed in four buildings over 4.2 acres. Five of the apartments will assist formerly homeless people and the rest will go to tenants earning between $16,080 to $48,240.
Amenities include large units, central air-conditioning, dishwashers, garbage disposals and each unit has its own washer and dryer. A 4000-square foot community building will include a social services/education coordinator who will provide homework assistance, tutoring and other programs to help schoolchildren living at Evans-Francis. The management building also has space for community meetings, a computer lab, family counseling and health program referrals.
The project is located across the street from a regional hospital and other employment opportunities exist nearby. In addition, the neighborhood is served by two NJ Transit bus routes, which connect to major transit hubs in Camden and Philadelphia.
Evans Francis Estates is the only uncompleted portion of Short Hills Farm, a 135-acre development consisting of 220 single-family homes worth upwards of $500,000, another 50 market-rate townhouses and 50,000 square feet of commercial space.
Image Gallery