News Updates
Meet Our New Jesuit Volunteers
Published on November 28th, 2016 in Fair Share Housing Development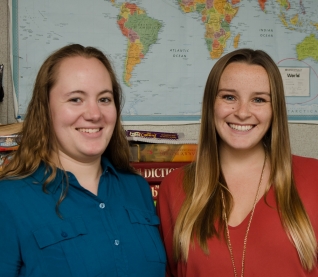 This year Margaret Donnelly O'Connor Education Center has two new Jesuit Volunteers: Meghan Murphy and Margaret Cowles. Meghan, originally from Denver, CO, is a graduate of Loyola Marymount University in Los Angeles, CA. She has a degree in civil engineering and is passionate about math, science and dance. This year Meghan hopes to incorporate some awesome STEM projects at Margaret Donnelly O'Connor Education Center. She also wants to bring her love for dance to the center with fun dance classes and yoga exercises. Meghan is ecstatic to be here and has been loving every minute with the kids.
Margaret hails from Spokane, WA and is a graduate of the University of Puget Sound outside Seattle, WA. Her degree is in psychology/neuroscience with a minor in religion. Margaret is passionate about math/science, French, music and sports. Margaret hopes to incorporate team-building sports, music, and fun science experiments into the enrichment at the Education Center. She also hopes to bring her passion for medicine as an EMT and pre-nursing student to the center exposing kids to limitless career opportunities in health and STEM. Margaret is thrilled to be here and can't wait to start shaping the minds of tomorrow's leaders!
Each year the Jesuit Volunteer Corps provides a full-time youth coordinator to work at the Margaret Donnelly O'Connor Education Center at Ethel R. Lawrence Homes. Jesuit Volunteers commit to one year of post-college service where the need is greatest and to live in apostolic community with other JVs. Our youth coordinators have come from colleges and universities across the United States including Holy Cross, Boston College, Gonzaga University, Fairfield, Notre Dame, Stanford, Dartmouth, Dayton, Fordham, George Mason, Georgetown, Hamilton, Michigan, Rockhurst University, Scranton, St. Joseph's, St. Louis University, University of Portland, Marquette University, St. Olaf College, and Loyola Marymount University.